REINFORCED CONCRETE SPECIALISTS
We are experts in reinforced concrete, designing, installing, and maintaining durable structures that can withstand significant loads. Our skilled team utilises the latest techniques and technology to ensure your project is completed to the highest standards of quality and safety.
We are industrial flooring experts. Whether it's external brush finish slabs or power floated internal slabs, our industrial flooring engineers are available to assist you with your project.
Reinforcement is vital for maintaining the strength and durability of any concrete structure.
We can help.
We produce the highest quality of Formwork to create and maintain strong structures whatever their shape or size. Contact us today for more details.
Leeds Formwork Contractors
Formed in April 2017, G & F Formwork Ltd are experts in all aspects of Reinforced Concrete works. We are committed to delivering an outstanding, reliable service to our customers and our repeat client base proves that our dedication to our work and service is beyond compare. We have gained expert knowledge and experience working for many of the leading sub contractors in the North of England over the last 20+ years.
Our primary aim is to build long lasting mutually successful relationships with new clients as well as maintaining those we have already developed. All of our staff members are trained to the highest possible standards .
We are fully CHAS Accredited and adhere to the highest possible health & Safety standards. All of our employees and sub contractors have full CSCS cards and are given all additional required training to keep up to date with all health and safety requirements.
We are based in Yorkshire but can offer our services nationwide on a job by job basis. With excellent motorway links we are happy and easily able to travel across the country, whatever the distance.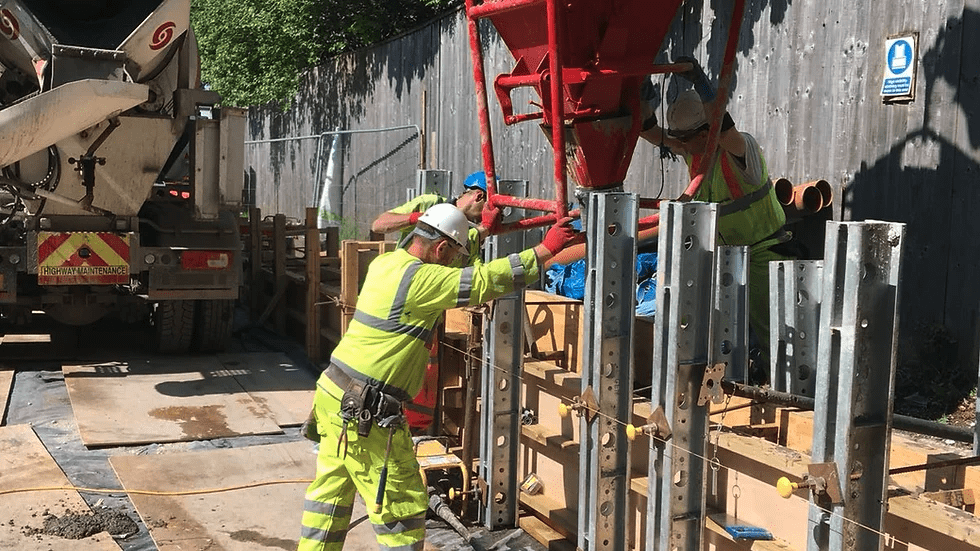 REINFORCED CONCRETE SPECIALISTS
A professional formwork contractor in Leeds will explain to you that concrete can handle compression easily. However, the truth is that it fails quickly under tensile, which is a stretching force. G & F Formwork has an experience in providing comprehensive concrete formwork services to its clients.
​You don't need to be a Civil Engineer to understand the importance of reinforced concrete in construction. The concept can be simply explained by a common household thread. You compress the thread and nothing happens, it stays intact. But pulling the thread from both sides will immediately break it. A similar thing happens with concrete.
So, what are you waiting for?
Get in touch with the best Leeds formwork contractors today to start the construction project.